Aesthetic restorative dentistry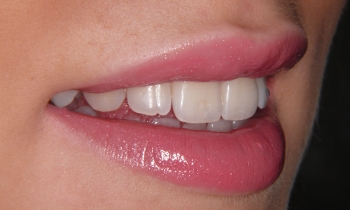 Aesthetics dentistry has became sophisticated in approach and is an integral part of most treatment plans and provides numerous potential treatment options. By beginning with development of successful enamel adhesive restorative procedures, and taking into consideration the knowledge of tooth form, structure, position and colour of an intact tooth, modern aesthetic dentistry can propose more conservative and economical solutions and can achieve his goals through simple procedures such as: fillings, inlays and onlays , composite and porcelain veneers, veneerlays and more.
In most cases of chipped or cracked teeth, simple bonding of fillings is the cheaper and more appropriate solutions. However, for the anterior teeth, if the cracks are more severe, dental veneers are recommended solution not only because of their aesthetic value but also because they do not require invasive and radical reshaping of the teeth.
To hide a broken tooth will help onlay or crown made entirely of porcelain, which also have an absolutely natural look and natural teeth transparency.
If you'd like to improve the whiteness of your teeth, can help you with micro polishing and tooth whitening systems designed for home or dentists office use.
In order to compensate lost teeth the use of dental implants which feel, look and function like your own natural teeth improve the comfort and self-esteem by giving you back your smile and helping you feel better about yourself.